Me getting the Peppers, onions, and mushrooms ready for the venison steaks...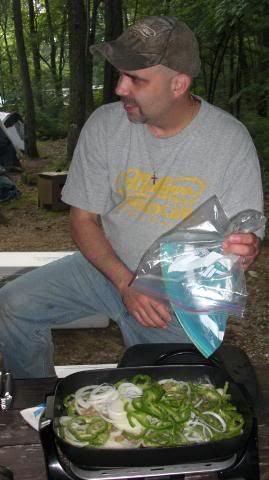 Jen and I...
Saturday night around midnight it started to rain, and boy did it ever rain!!! It didn't stop till about 9:30 Sunday morning. We ended up going out to breakfast. If you are ever in the Palmer Ma. area, check out Girly's Grille!!
Their breakfast was killer. The portions were huge, and the staff...well.... look at the name of the resturant...lol.
The service was top notch.
We got to the club at 11, so we really had to rush through the N.A. side. Cards had to be in at 2:15. We didn't get any pics because we rushed through. The North american side was set up on Necamanseks public 3d course. This has to be the absolute best terrain I have ever shot. I will definitely take the 2 hour drive to shoot one of this clubs regular shoots. We got done at 3, and they barely accepted out cards. I heard at least 50 shooters got booted from the course before they finished. Thats BS!!!
I can see having a cut off for starting the course, but once you are on the course you have no control over the speed of the crowd.
Plus the morning rain didn't help.
All in all I had an awesome time. I shot like poo, as did most of us. The course was a lot harder then last years Vt R-100. Good friend, Good food, cold beer, and a relaxing weekend more then made up for the our shooting woes.
Everybody went home Sunday night except for Jen and I. We wanted a night to relax. Virg(Hilltophunter) was camping within view of us. Jen and I got a rare opportunity to spend some time around the fire with him and his wife Sunday. Sunday night was the highlight of the weekend. Absolutely nothing to do!!! I truly hope Rinehart has the shoot at this club next year. Was a nice short drive.,a gorgeous campground, and a very organized club hosting the event.
Have to include a few shameless Vortex Optics plugs!!!...